Jedox
Top-rated Business Intelligence Tool in Malaysia
To gather, analyze, modify, and report data, business intelligence tools are of extreme value. Jedox has become among the most trusted business intelligence tools in Malaysia, and for good reason. This tool offers tremendous insight into customer behaviour so you can make better decisions. Jedox is a comprehensive solution for all management levels and processes.
Introduction
As a client-server software program, Jedox is capable of creating Business Intelligence and Corporate Performance Management (BI/CPM) solutions. These solutions help with in-depth analysis, as well as planning and reporting purposes. In addition to analyzing historical data, this business intelligence tool helps with planning and forecasting actual and future data as well.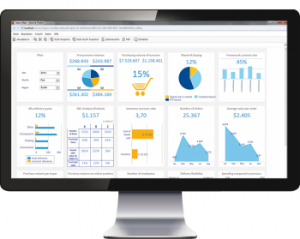 Product Features
EXCEL ADD-IN
Limitless number of workspaces link online through communication with Excel front-end and the Jedox OLAP database
EXTRACTION
Data are automatically imported with the extraction tool.
GPU MODULE
Nvidia Tesla graphical processors compute power and memory for analysis purposes.
MOBILITY
Access is provided to software functionality and the central OLAP database.
ODBO XMLA INTERFACE
This complementary component is used by clients of ODBO-enabled Windows.
OLAP SERVER
Real-time, memory-based, multidimensional server
SAP INTERFACE
For SAP environments, this is an additional interface
WEB CLIENT
Local reports are converted into server-based applications
Awards and Certifications
Jedox is the recipient of several coveted awards and certifications, including the following:
In addition to founding Jedox in 2002, Kristian Raue established Graphitti Software and Intellicube Software. One business user expressed his feelings about Jedox by saying, "This Company has forever changed the way in which data is gathered, analyzed, and reported on by my company. Along with enhanced productivity, I owe the success of my business to every Jedox component."
Clientele
In Malaysia and around the globe, Jedox remains one of the most trusted and respected business intelligence tools. In a recent announcement, Jedox spokesperson unveiled the signing of new contracts linked to two publically listed companies.
In addition, the company revealed its business expansion within the United States and Jedox, Inc., the new Boston-based subsidiary overseeing international expansion. With Jedox now in such high demand, over 1,700 companies in 127 countries rely on this business intelligence tool for boosting productivity and achieving success.